Main differences between the new HP 50g and the HP 49g+ are: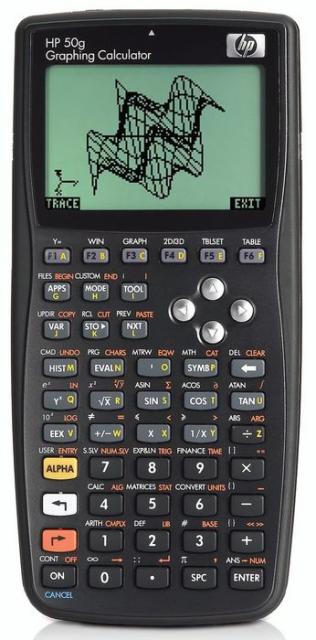 The back shell is textured to provide a better and more secure hand grip.
Easy on the eye with dark black for the body, and white, orange and yellow for the function shift keys.
Full equation library found in the earlier 48Gx Series.
Serial connection as well as the IrDA and USB ports.
New generation of keyboard, which has been redesigned for better feel and firmer entry.
A new more powerful HP 50g Graphing Calculators feature easy-to-use, powerful tools that students and professionals can rely on and trust for years of performance, including:
Powerful built-in graphing functions, constants and applications.
Built-in lessons and step-by-step problem solving.
The choice of efficient RPN, Textbook or Algebraic data entry.
User-friendly Computer Algebra System (CAS).
Massive memory with SD card slot, support both FAT and FAT32 File System format.
Flexible connectivity and communication options.
Large high-contrast display with adjustable font type and size (30% increase in usable space over the HP4x Series).
Large equation library and 2300+ built-in functions.
Isolate and Evaluate Sub-Expressions using the intelligent editor with cut, paste and copy objects.
Flexible IrDA (limited to 10 cm distance), Serial or USB connectivity.
Comes complete with cables and HP Graphing Calculator Connectivity Kit Software.
HP 50g References: