HP 12c Emulator
The HP-12C calculator is a programmable financial calculator utilising reverse polish notation with a 4 register stack, 99 program lines available for programs, financial registers, 20 data storage registers, and continuous memory.
Functions include percentage, statistics, linear estimation, calendar, financial, depreciation, bond price and yield, discounted cash flow analysis. Calculator programs feature conditional branching and looping. Also, the calculator has the ability to store multiple programs. Applications for this calculator include the fields of real estate and lending, mortgage brokering, stocks and bond trading, leasing, and banking.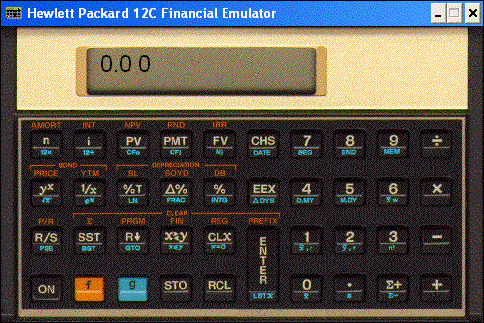 To register send check or money order payable to:
Mark H. Shin, dba Telemark Software
P. O. Box 2195
La Jolla, CA 92038
The registration fee is $34.95 US. Foreign country orders add $5.00 US for shipping. CA residents add 7.75% Sales Tax. Please allow 10 days for delivery via first class mail.
by Grapevine Publications.
Download (File Size = 1200 KB) Only works on older Windows 2000 and XP.
NOTE: This software does not run on 64-bit Windows 7 or Windows Vista.