Curt Herzstark (1902~1988)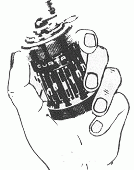 The Curta looks like a small metal pepper-mill or coffee grinder. It is, in fact, a precision instrument which performs calculations mechanically using no electric or electronic parts. I can best describe the sensation of turning the crank on a Curta as being similar to winding a fine 35mm camera. To the best of my knowledge it is the smallest mechanical calculating machine ever built.
The Curta was invented by Curt Herzstark of Austria. It was rumored that Mr. Herzstark secretly developed the Curta while imprisoned in a German concentration camp. Apparently this is almost true. Herzstark was a prisoner at Buchenwald but the camp leaders were aware of his work and encouraged it. They apparently wanted to give the invention to the Fuehrer as a victory gift at the end of the war! Herzstark was given a drawing board and worked on the design day and night. The camp was liberated in April, 1945 by the Americans. Herzstark survived as did his revolutionary concept for a miniature calculator.
When were the Curtas made? Although several prototypes were made, the first production began in April, 1947. The last Curta was made in November, 1970 but they were still sold until early 1973. By then, pocket electronic calculators were selling for under $100 and a precision mechanical instrument like the Curta could no longer compete.
Are there different Curta models? The Curta II is slightly larger than the original Curta. It was first produced in 1954 and has a larger numeric capacity than the Curta I.
Reference: http://www.curta.de/