HP 30s Scientific Calculator
The hp 30s is an entry-level, scientific calculator for high school students.
constant mode.
interchangeable faceplate.
enhanced constant mode lets you change any combination of numbers, variables, functions and operators.
decimal-to-fraction conversion function.
equation solver function.
helpful in scientific applications requiring trig and math functions.
calculate conversions with hexidecimal, decimal, octal or binary bases.
great for sine, cosine, tangent, exponential, natural log and antilog functions.
enter operators and data in the order that would solve the problem as you would on paper.
Specifications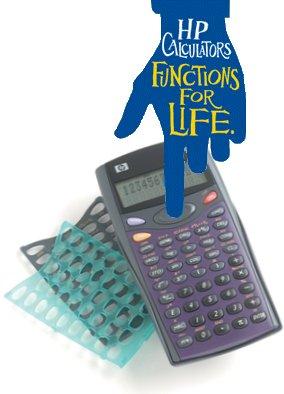 Battery Type - 2 x LR44.
Display - 7x5 dot matrix, 2 lines.
Entry system logic - Algebraic.
Memory RAM/ROM - 10 memory registers.
Built-in functions - Over 66.
Statistical analysis.
Polar/ rectangular and angle conversions.
Fractions.
Linear regression, combinations, permutations.
Decimal hrs/hrs.min.sec. conversions.
Trig., Hyperbolics, HPSolve (root finders).
Unit conversions.
HP Part Number F1900A.
Note: Permitted for use on College Board* Tests: AP*, SAT* and PSAT/NMSQT. (* College Board, AP and SAT are registered trademarks of the College Entrance Examination Board).
Note: The HP 30s has reached its product end-of-life (EOL). This product is no longer available for sale.