1973.04.08 Hewlett-Packard
Hewlett-Packard Produces Simple Answers To Complex Problems. For proof, see us at USAQUIP.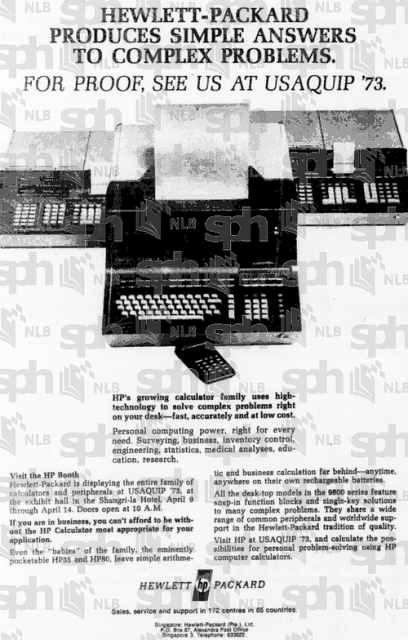 Hewlett-Packard is displaying the entire family of calculators and peripherals at USAQUIP 73 at the exhibit hall in the Shangri-la Hotel, April 9 through April 14 (1973). Doors open at 10 A.M.
Even the 'babies' of the family, the eminently pocketable HP-35 and HP-80, leave simple arithmetic and business calculation far behind - anytime, anywhere on their own rechargeable batteries. Visit HP at USAQUIP, and calculate the possibilities for personal problem-solving using HP Calculators.
HEWLETT-PACKARD: Sales, service and support in 172 centres in 65 countries.
Published:
TST, 8 April 1973, Page 16 - Hewlett-Packard Singapore Pte. Ltd.