HP Easy Calc 100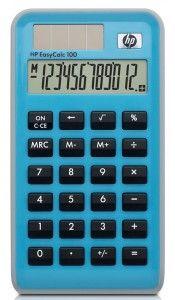 This is for doing basic math calculations. Great for crunching large financial numbers with is thousand comma seperator as you enter numbers. HP EasyCalc 100 has solar power feature with backup battery and has auto power-off.
HP EasyCalc 100 Quick Specifications
HP Calculator Part Number: F2239AA.
Display: 12-digit LCD, Big Digit Size: 12 mm x 3.1 mm, Display Area: 56.6 mm x 16.3 mm.
Entry-System Logic: Algebraic
Math Functions: Sign Change, +, /, -, x, =, Square Root, %, Memory Calculation.
Power System: Solar Powered with Battery (1 x LR44) Back-up. Auto-power off 5 minutes.
Weight: 82 grams.
Size: 135 mm x 73 mm x 17 mm.
What's in the box? Calculator with Batteries and User Guide.