HP 35 Backside Instructions
HEWLETT-PACKARD MODEL 35 INSTRUCTIONS
LOW BATTERY LIGHTS ALL DECIMAL POINTS.
IMPROPER OPERATIONS FLASH DISPLAY. PRESS [CLX]
[CLX] CLERS THE DISPLAY.
[CHS] CHANGES SIGN OF DISPLAY. MAYBE USED AS THE FIRST ENTRY WHEN ENTERING NEGATIVE NUMBERS.
[CLR] CLEARS ALL REGISTERS.
[EEX] CAUSES NEXT ENTRIES TO BECOME EXPONENTS OF X FOR NEGATIVE EXPONENETS [CHS] MUST PRECEDE DIGITS.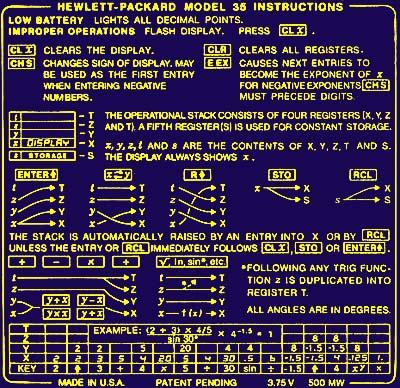 MADE IN U.S.A. PATENT PENDING 3.75V 500MW