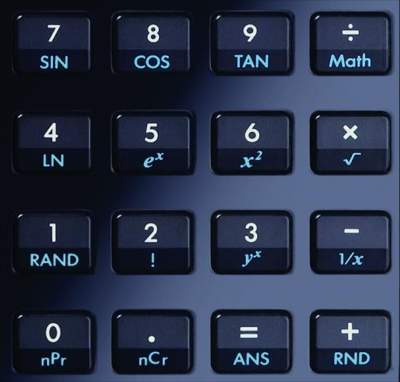 Shifted Function Mathematical Operations
[Shift][EEX] Keys in numbers with explicit powers of 10.
[Shift][SIN] Calculates sine.
[Shift][COS] Calculates cosine.
[Shift][TAN] Calculates tangent.
[Shift][LN] Natural log.
[Shift][ex] Calculates natural exponent to the power of x.
[Shift][x2] Returns square of x.
[Shift][sqrt] Calculates square root.
[Shift][RAND] Executes the Random function. Returns a random number in the range 0 < x <1.
[Shift][ ! ] Calculates factorial of x(where 0 ≤ x≤ 253).
[Shift][yx] Returns y to the xpower.
[Shift][1/x] Reciprocal.
[Shift][RND] Rounds x internally to the number specified by the display format. Default is two digits to the right of the decimal point.
More functions: [ Math] key.