HP PrintCalc 100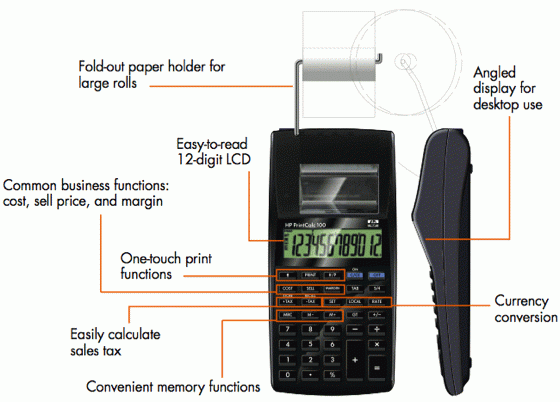 HP PrintCalc 100 Specifications:
Display: 12 Digits.
LCD Digit size: 16 x 4 mm.
Display Area: 75 x 24 mm.
Printer: 1 color, 1.4 lines/sec, paper width 58 mm.
Unit Weight: 278 grams.
Entry-system logic: Algebraic.
Business/finance functions: Mark-up/Mark-down (MU), Percentage, Grand Total (GT).
Memory calculations: MRC, M-, M+.
Tax calculations: (RATE, +Tax, -Tax).
Math functions: Sign change, plus, divide, minus, multiply, square root, rounding section.
Added features: Replay function, double zero key.
Power: 4 AA batteries or optional AC-DC 5 volts adapter.
Auto-power off: 5 minutes.
What is in the HP PrintCalc 100 box: Calculator with 4 AA batteries, user guide, and a roll of paper.