HP 48g plus Graphing Calculator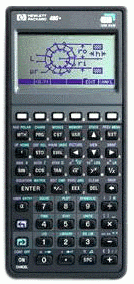 We think you'll agree this is science and math like never before. The 48g+ puts such a great synergy of features at your fingertips, you may never work the same way again.
We've combined the power of 3-D graphing, charts, and lists with an RPN capacity we know you'll really value. Using the HP 48g+'s pre-created forms to input data quickly, you'll be able to work through complicated equations efficiently and easily. The HP 48g+ gives you power and ease in one comfortable, user-friendly system.
product features
128 KB of RAM and a built-in equation library. More than 300 commonly used formulas and scientific constants.
Object-oriented programming helps you create applications quickly and easily.
HP MatrixWriter application lets you view, enter and manipulate arrays.
HP EquationWriter application shows equations and formulas just as they would appear in a textbook or on paper.
HP Solve application allows you to solve for any variable without rewriting your equation.
Infrared Communications enable you to send files between HP 48G/G+/GX calculators, and to the infrared printer (optional).
Optional Connectivity Kit keeps you connected with your Mac or PC. See HP CONNX4
Specifications:
Battery Type 3 x AAA
Display - 8 line x 22 char. LCD
Entry system logic - RPN
Memory- RAM/ROM 128 KB, unlimited within available memory
Sample Std deviation/ mean/ weighted mean
Forecasting, correlation coefficient
LOG, 10x, PI, x
Built-in functions - Over 2300
Customization Method HP Solve/RPL
Clock, calendar, appointments and alarms
Date arithmetic
Multivariate/stat Statistical analysis
Polar/ rectangular and angle conversions
Base conversions and arithmetic
Bit, Boolean operations
Curve fit (LIN ,LOG, EXP, POW)
Numeric integration/ Complex number functions
Cylindrical, spherical
Fractions
3D graphing functions with interactive graphics
Linear regression, combinations, permutations
Matrix operations, rectangular and polar
HPmatrix writer, row and column operations
Menus, prompts, alpha messages, softkeys
notepad through variables
Redefineable keyboard and menu keys
Normal, X, t, F distribution
SUM x, SUM x 2, SUM y, SUM y 2, SUM xy
Decimal hrs/hrs.min.sec. conversions
Trig., Hyperbolics, HPSolve (root finder)
Unit conversions