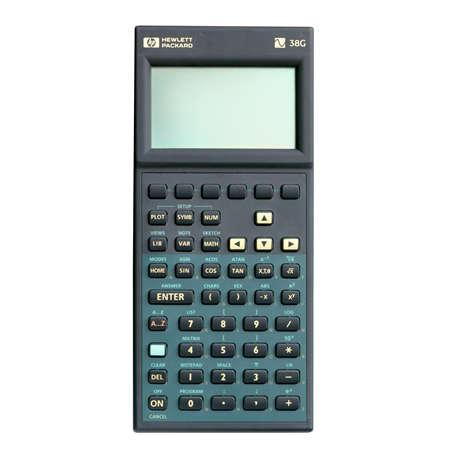 HP 38G The graphic calculator with Aplets
The large graphing display on the HP 38G makes it ideal for viewing equations numerically, symbolically or graphically. Powerful features such as electronic lessons (applets) take the guesswork out of problem solving.
ideal for:
Algebra students seeking sturdy design
Students looking for an exciting new electronic learning tool
benefits:
Perfect for adding variables, pictures, and graphs
Helpful when viewing equations numerically, graphically or symbolically
Work through complicated equations quickly and easily
View math relationships side by side
Specifications
Battery Type - 3 x AAA
Display - 8 line x 22 char. LCD
Entry system logic - Algebraic
Memory RAM/ROM - 32 KB, unlimited within available memory
Sample Std deviation/ mean/ weighted mean + Population standard
Built-in functions - Over 600
Customization Method - HP Solve
Statistical analysis - Multivariate/stat
Polar/ rectangular and angle conversions
Curve fit (LIN ,LOG, EXP, POW)
Numeric integration/ Complex number functions
APLETS (built-in or added applications including Note and Sketch menus)
Fractions
2D graphing functions with interactive graphics
Linear regression, combinations, permutations
Matrix operations, rectangular and polar
HPmatrix writer, row and column operations
Menus, prompts, alpha messages, softkeys
Built-in Notepad
Redefineable keyboard and menu keys
SUM x, SUM x 2, SUM y, SUM y 2, SUM xy
Trig., Hyperbolics, HPSolve (root finder)
Note: HP no longer produce HP38G Calculator. This page was provided for information purpose only.