Get the flexibility - HP 35s Scientific Calculator lets you choose RPN or algebraic entry-system logic (no other scientific calculator offers both). It also features a large, two-line alphanumeric display and adjustable contrast, plus a robust library of built-in functions and constants. The HP 35s is retro styled calculator with a purpose with its yellow, blue and pink colors lettering that stand out vividly from the black theme of the HP35s. Keys are ergonomically placed.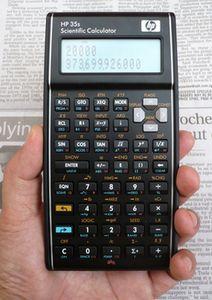 Choose [RPN(/page/139820/) or [algebraic(/page/240083/) entry-system logic.
Work efficiently with the [keystroke programming(/page/270080/).
Efficiently tackle heavy workloads with the 30KB memory and 800+ independent storage registers.
Store an equation, then use it again to solve any variable using HP Solve, or employ any of 100 built-in functions.
View entries, results, menus, and prompts with ease on the large, two-line display with adjustable contrast.
Simplify calculation with the 42 built-in physical constants.
Get peace of mind with the one-year limited warranty plus HP advice and support.
Weight: 125 g (4.4 oz).
HP 35s, HP Part Number: F2215A.
What is inside the 35s box?
HP 35s Calculator + Batteries + Comprehensive User Manual + Premium Protective Case