HP 10s Emulator
Download Options:
Hewlett-Packard Calculator Training Page - emulator download site.
⇩ Download from Cached Archive (filesize 9MB) 2013.01.22 Build 19032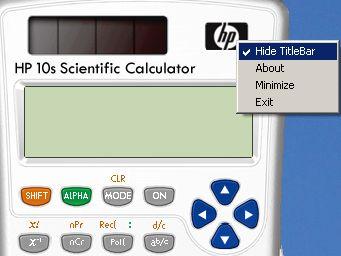 After installing the HP 10s Emulator. Run Emulator from Start > Programs > HP Calculators > HP 10s Virtual Calculator
Right click on hp logo, uncheck "Hide TitleBar".
Click ON button to use virtual calculator.
Updated On: 15.07.08