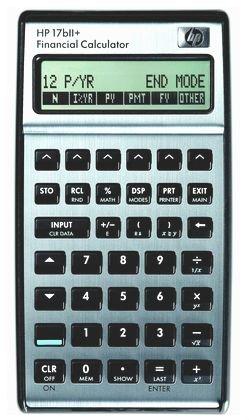 Built-in Financial Functions:
Time Value of Money (TVM), amortization, internal rate of return, net present value, bonds, depreciation, forecasting, currency conversions (including Euro), percentages, algebraic and RPN calculations, and more.
HP Solve application write and solve equations for any variable without rewriting your original equation.
Menus, prompts, and messages access applications and find solutions easily with a minimum of keystrokes.
List-based, two variable statistics and forecasting, and clock with alarms review your calculations through data kept in lists. Scroll through and edit as the information changes and always keep on time!
Increased user memory of 28k for use with cash flows, sum, equations, solver variables, calculating lines and appointment messages.
Finance, real estate, accounting and business professionals are able to calculate mortgages, balloon payments, depreciation, bond yields, internal rate of returns, net present values, currency conversions for a real powerful workhorse.
HP Part Number F2234A.
HP 17bII+ References:
RPN is an efficient data-entry system that can significantly reduce keystrokes.
HP Solve is a time saving application exclusive to HP calculators that allows you to solve equations for any variable without re-writing your equation.