HP 30b Business Professional comes pre-packed with an extensive library of finance, business, real estate, and statistical functions, it's easy to use and learn. The intuitive layout, fast processor, and 2-line alphanumeric display give you quick answers. Add custom calculations for your course curriculum or line of business with convenient programming capability.
HP 30b in a nutshell: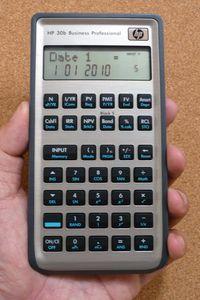 Easy to use and learn. Its user interface is similar to the HP 20b.
Lots of powerful business and statistical functions.
Plenty of memory - can store up to 50 pairs of statistics or cash flow data.
Programmable - 290 steps macro programming.
Elegant and ergonomic.
Large 2-line display that can show up to 12 digits
HP's accurate rotate-and-click keyboard technology.
Choose your data entry option of Time-saving RPN, familiar algebraic, or traditional chain algebraic.
Built-in Black-Scholes Equation, used to calculate the theoretical premium for calls and puts.