HP 40gs in stores by April 2006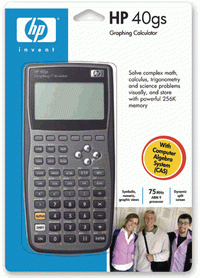 Ideal Graphing Calculator for math and science students.  The big, bright LCD with split-screen capability.  Create applications and access built-in aplets for self-paced training.  Connect to other HP40gs units or to PCs via RS232 and USB ports.  HP 40gs to solve problem visually (visual answer to advanced problem) with its built-in Computer Algebra System (CAS).  User-friendly CAS gives dynamic symbolic and numerical computation for calculus and higher-level math.
What's inside the HP40gs box: Calculator, batteries, user manual, USB cable, unit-to-unit connectivity cable and CD with connectivity software.
HP 40gs will be released into the South East Asia Market by April 2006.
Updated On: 12.06.30