South-East Asia covers an area of about 4,100,000 square kilometres. Educalc.net is responsible for supplying and supporting HP Calculator Products to Brunei, Indonesia, Malaysia, Philippines, Singapore, Thailand, Vietnam and Sri Lanka.
South-East Asia has more than 530 million people lived in the region and about a sixth of them (+114 million) on the Indonesian island of Java, the most densely populated island in the world. The distribution of the religions and people is diverse in Southeast Asia and varies by country. There are about 28 million Overseas Chinese are living South-East Asia. South East Asia countries has a combined gross domestic product (GDP) of about US$800 billion (S$1.3 trillion).

Countries like Thailand, Vietnam, Laos, Cambodia, Myanmar and Singapore of the population are largely practises Buddhism. In Malaysia, Indonesia and Brunei are mainly Muslim. Christianity is predominant in the Philippines and East Timor.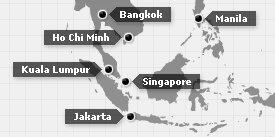 Bangkok | Ho Chi Minh | Jakarta | Kuala Lumpur | Manila | Singapore
Updated On: 13.10.21